Service Phone
0755-86180065
service hours
Monday to Friday 8: 30-18: 00
Back to top
LA-5825 outdoor 300M industrial wireless bridge (point-to-point 15 km)
Main Products: wireless monitoring, wireless monitoring equipment, wireless video transmission, wireless monitoring system, wireless video monitoring
LA-5825 is a professional outdoor long distance, high power, high bandwidth, wireless bridge device. The hardware is equipped with AR7161 + AR9220 wireless solution. The hardware and software are very stable, the signal receiving sensitivity is high, the performance is reliable, and the transmission rate is high. The LA-5825 has a built-in 25dbi dual-polarized MMO antenna (9 ° horizontal and 9 ° vertical). Using MIMO dual-channel transmission technology, the maximum rate is 300M. The signal transmission distance varies according to the networking mode. (PTP) point-to-point bridge transmission is up to 20 kilometers, and (PTMP) point-to-multipoint transmission is 15 kilometers. The system has a frequency detection function that can detect the 5G signal and strength on site. , Optimize the frequency spectrum, increase the frequency spectrum utilization rate, and ensure the stable signal transmission. The system is optimized, and the settings are simple and easy to understand, reducing the difficulty of installation and commissioning.

LA-5825 has the 802.11an wireless protocol, supports 802.11a downwards, and supports a maximum transmission rate of 300Mbps, which can meet the transmission of video, voice, data, control signals and multimedia information services based on the TCP / IP protocol.
★ Integrated antenna, easy installation
★ Easy deployment and flexible networking
★ Fast roaming switching mechanism
★ Professional point-to-point (PTP) or point-to-multipoint (PTMP) bridging mode, flexible networking
★ The transmit power is adjustable, the transmit power is 32dBm (1.6W), in steps of 1dBm
★ High receiving sensitivity, compared to other devices at the same distance can get better data flow
★ Intelligent load balancing to maximize wireless network capacity
★ Carrier-grade high reliability and stability
★ Adjustable channel bandwidth, effectively use frequency resources, optimize wireless links, and make network transmission more stable
★ On-site spectrum scanning soft adjustment: It can scan the entire 5GHz frequency band and give signal strength, specific frequency points, and noise signal-to-noise ratio, which is convenient for project debugging
★ IP tool software: When you forget the wireless device IP address, you can use (IP Config) tool software to search the device's IP address
★ Bandwidth management: Bandwidth control is in units of 1k, with perfect QoS service quality guarantee
★ Antenna calibration: The WEB interface automatically displays the value of the connection signal and the quality of the signal connection through graphics.
★ Multiple security measures: support WEP, WPA, WAP2 and 802.1x, and support international standards AES / TKIP
★ Channel detection, which can automatically detect the signal interference level of the local 5.8G channel to obtain clean frequency resources
★ Industrialized design of equipment, more stable, more prominent performance
★ Channel interference detection, which can scan the entire 5.8GHz frequency band, which is convenient for project debugging
★ Signal strength indication, convenient antenna calibration, improve installation and debugging speed, shorten construction time
★ Power over Ethernet, reducing power supply wiring problems, facilitating flexible layout of equipment and reducing construction volume
★ Convenient wireless connection configuration and simple operation of management equipment
★ Built-in watchdog function to permanently stop the crash
★ Timed restart function of equipment hardware to ensure long-term stable operation of equipment
★ Telecom-grade design standards, waterproof, dust-proof, UV-resistant, wide temperature design to meet a variety of harsh outdoor environments
★ The software has bilingual functions in Chinese and English, which reduces the difficulty for technicians to debug

system message

processor

AR7161 + AR9220 wireless solution

frequency

5.180 ~ 5.9GHz

RAM

32MB

Flash memory

8MB

Transmit power

32dbm (± 2dBm)

Modulation

OFDM: BPSK, QPSK, 16-QAM, 64-QAM, 256-QAM

interface

One 1000BASE-TX adaptive fast Ethernet interface, auto flip (Auto MDI / MDIX)

Antenna gain

25dbi

Antenna angle

(水平):9° H (horizontal): 9 °
(垂直):9° V (vertical): 9 °

Front-to-back ratio

≥25

Standing wave ratio

≤1.5

Radio frequency band

Support HT20, HT40, HT80MHz

Sensitivity

HT20 (bandwidth): MCS0 @ -94dbm

HT20 (bandwidth): MCS7 @ -77dbm

):MCS0@-93dbm HT40 ( bandwidth ): MCS0 @ -93dbm

HT40 (bandwidth): MCS7 @ -75dbm

Encryption type

、 WPA 、 WPA-TKIP 、 WPA-AES 、 WPA2 、 WPA2-TKIP 、 WPA2-AES 、 802.1x WEP , WPA , WPA-TKIP , WPA-AES , WPA2 , WPA2-TKIP , WPA2-AES , 802.1x

Safety management

访问控制策略 ACL access control policy

Management style

方式管理,支持SNMP V2C,Telnet/Shell(SSH) Web management, support SNMP V2C, Telnet / Shell (SSH)

Machine power consumption

9.5W

Power supply

POE DC 18 ~ 24V wide voltage

Total Weight

2.6 kg

Suitable for humidity

Jobs: 5% to 95% (non-condensing)

Storage: Max.90% (non-condensing)

Operation interface

Support Chinese / English

Temperature conditions

Work: 30oC to 70oC

Storage: -40oC to 90oC

Size (length * width * height)

370 * 370 * 100 mm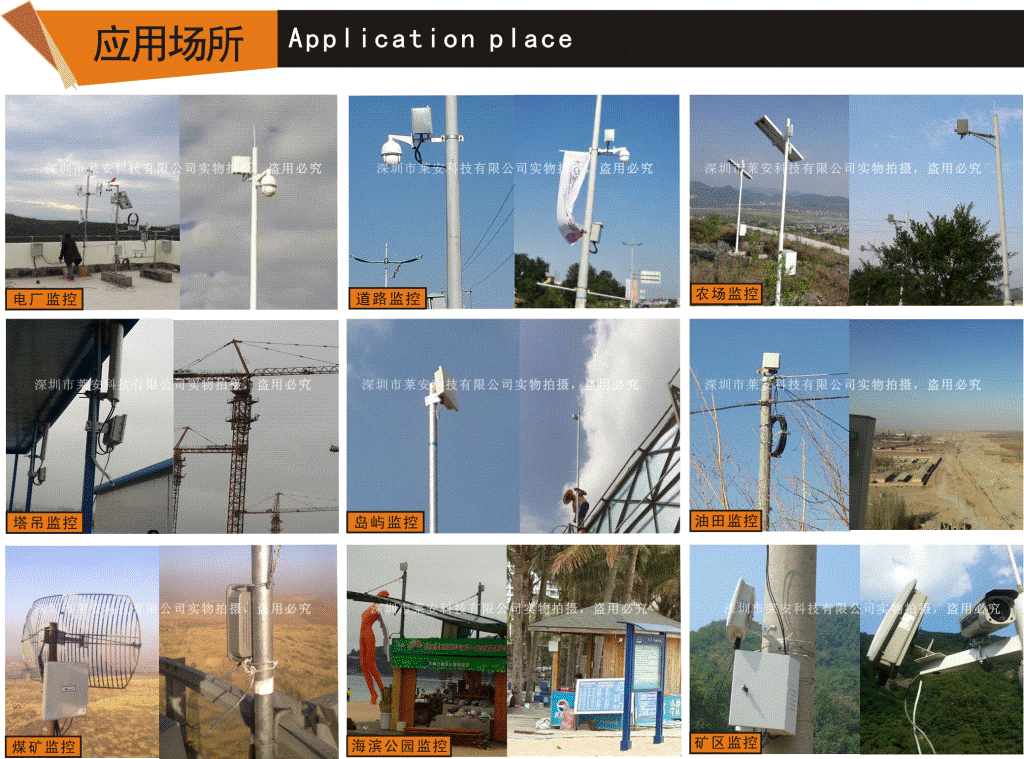 Product search keywords: wireless bridge, 15 km wireless bridge, 5.8G wireless bridge, long-range wireless bridge, wireless farm monitoring, wireless monitoring system for power plants