Service Phone
0755-86180065
service hours
Monday to Friday 8: 30-18: 00
Back to top
Wireless monitoring helps mine illegal mining management in Quanzhou Taiwanese investment zone
I. Introduction

Since Quanzhou deployed and launched a special operation to crack down on illegal and illegal mining, various departments at all levels have paid close attention to implementation and achieved significant results. However, in some areas recently, closed mines (points, wells, and mines) have "revived" and seriously disrupted the order of mineral resources development in our city. In order to further crack down on various illegal mining activities, the following action plans are formulated.
Second, the focus of rectification
1. Enter other people's mines for mining;
2. Mining enterprises illegally contract, subcontract, and transfer mining production;
3. Arbitrary charges and fines for mining entities;
4. Illegal mining without a mining license;
5. Mining beyond the approved mining area;
6. Unauthorized changes in mining methods or super-capacity mining.
Wireless microwave monitoring, no dead-end inspections, faced with the new situation and new requirements of ecological environment construction, the Taiwanese business district made a serious attack to fully crack down on uncertified mines. The "Plan" implements grid-based management of unlicensed mines in the region in accordance with the principle of "local management", and implements them to specific responsible persons.
In view of the fact that there is a small number of staff in the township special crackdown, the Taiwan business district has increased the number of law enforcement personnel to expand the mine inspection team. 无线微波监控 ,每天实行动态巡查,确保无一遗漏,并及时上报,一旦发现有非法采矿行为,立即组织人员进行取缔。 "A full-time inspection team for township and town mines was set up to conduct round-the-clock inspections of the mining area." The head of the environmental and land monitoring team in the area introduced that the Taiwan Business District is also installing 15 24-hour video wireless microwave monitoring in serious areas of illegal mining , and daily dynamic Conduct inspections to ensure that there are no omissions and report them in a timely manner. Once illegal mining activities are found, immediately organize personnel to ban them. "It is not convenient to set up a mine. Wireless microwave monitoring is a 360-degree panoramic camera, which uses solar energy to operate, which is convenient and environmentally friendly."
Three: Customization of monitoring solutions
The wireless solution is divided into four parts: solar photovoltaic module power supply, video acquisition, wireless networking signal bridging, and central signal convergence.
1: Solar photovoltaic module power supply
All monitoring points are located in the mine, and conventional power supply cannot be resolved. Based on comprehensive consideration, it is decided to use photovoltaic modules and batteries to provide power for terminal cameras, wireless bridges and other equipment.
2: video capture
All front-end monitoring points use millions of network high-definition infrared high-speed domes and fixed-lens cameras. The high-speed dome mainly monitors the activities in the monitoring area in an all-round and effective manner, and the fixed-lens cameras monitor the activities under the local monitoring pole.
3: signal return
The video signal collected at each monitoring point is modulated by the LA-5830F outdoor antenna integrated wireless network bridge into a microwave signal and hit the telecommunication network access point. At this point, multiple terminal network signals can be accessed and aggregated.
4: Center landing
The monitoring center is located at the National Land Resources Center. At this point, the signals of the scattered monitoring convergence points are transmitted to the central monitoring platform through the telecommunication operator's fiber optic network. Law enforcement officers are sitting at the center and can observe the activities of mining sites in various mining areas through remote monitoring systems. If illegal mining or illegal mining occurs, law enforcement personnel will immediately find that law enforcement personnel are sent to the scene to stop it.
Through this system, the management efficiency of the land law enforcement department has been improved, and the speed of law enforcement has been increased from the discovery of the violation and the arrival of the violation at the scene within half an hour. Can be stopped and dealt with in the first place at the first time.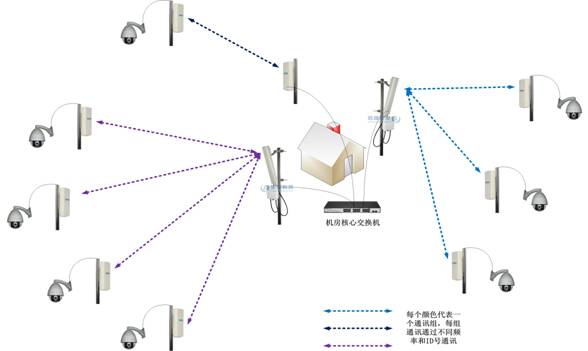 Four: Achievements
Recently learned from the Environment and Land Resources Bureau of the Taiwan Business District of Quanzhou that the geological environment restoration and treatment project for the abandoned mine in Dazhai Mountain, Zhangban Town has been included in the district-level pilot work, and will enter the construction phase after public bidding. After the project is completed, Dazhai Mountain is expected to form a platform for regreening, with a target of 95% forest and grass coverage.
We want green mountains and green mountains as well as golden mountains and silver mountains. Prefer green mountains and green mountains instead of golden mountains and silver mountains. These three sentences clarify the dialectical and unified relationship between economic development and ecological protection from different perspectives. They have both focus and indivisible, forming an organic whole. We can read from it that in the mind of Xi Jinping, ecological environment protection has become an insurmountable bottom line, and any approach of replacing green mountains and green mountains with gold mountains and silver mountains is not allowed or forgiven.
http://qinmabang.com ,转载请注明,谢谢! The article is from Laian Technology Mine Wireless Monitoring http://qinmabang.com , please indicate when reprinted, thank you!