Service Phone
0755-86180065
service hours
Monday to Friday 8: 30-18: 00
Back to top
LA-6802TD non-line-of-sight wireless data two-way transmission system (10W)
Main Products: wireless monitoring, wireless monitoring equipment, wireless video transmission, wireless monitoring system, wireless video monitoring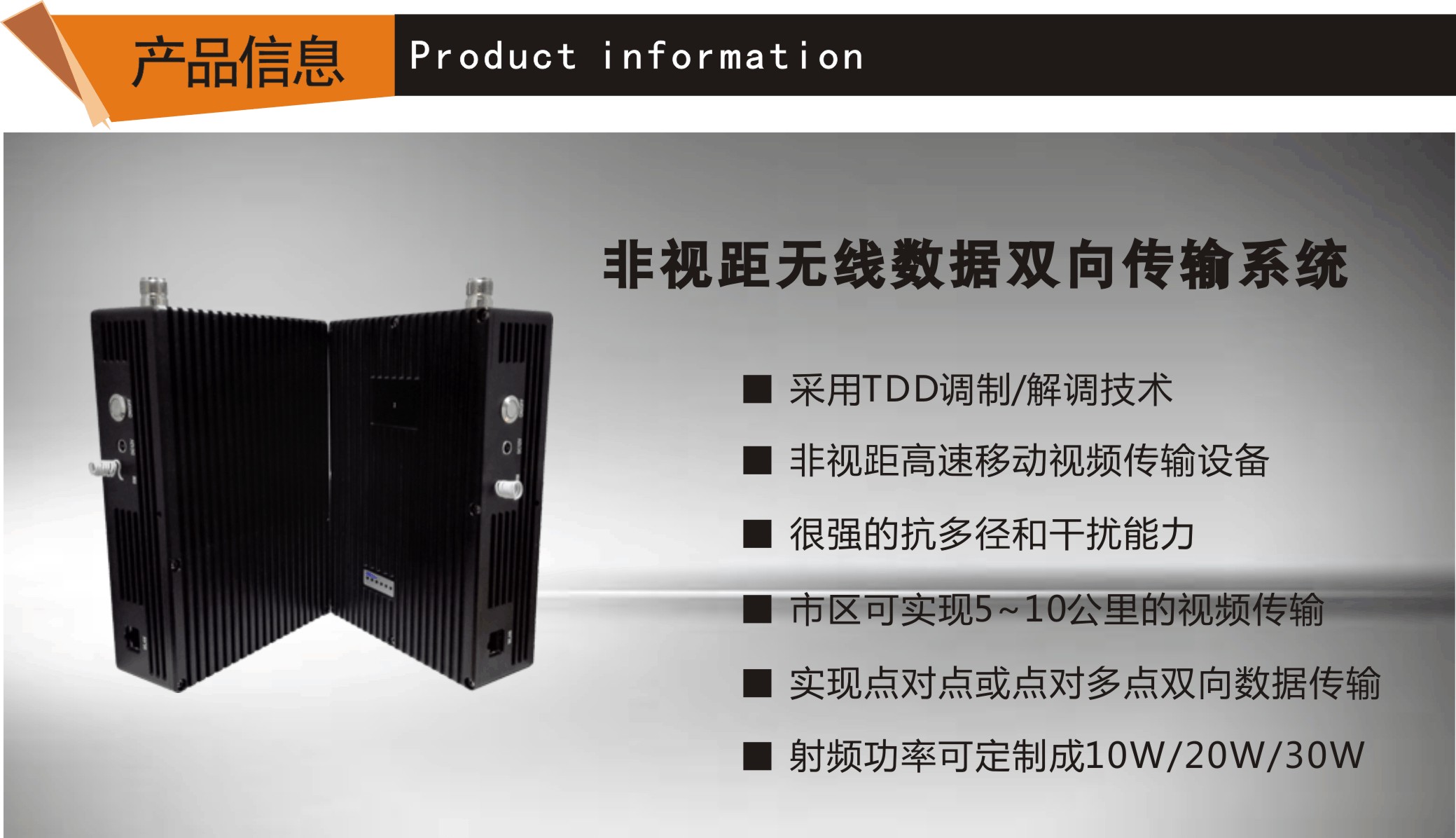 无线双向数据传输系统,采用 TDD ( Time Division Duplexing )时分双工技术,将信道资源在时间上通过时隙、频率上通过子载波来灵活分配给多个用户,在单一频率点最大限度的实现多用户接入。 LA-6802TD wireless two-way data transmission system, using TDD ( Time Division Duplexing ) time division duplex technology, channel resources are flexibly allocated to multiple users through time slots and frequency through subcarriers, maximized at a single frequency The realization of multi-user access. 5/10MHz )和很强的抗多径干扰能力等特点,能克服模拟技术和常规调制技术下多径反射及遮挡所带来的困扰,实现在非视距移动环境下传输双向视频、音频及数据。 The system has the characteristics of occupying a relatively narrow frequency bandwidth ( 5 / 10MHz ) and strong resistance to multipath interference. It can overcome the problems caused by multipath reflection and occlusion under analog and conventional modulation technologies, and achieve non-line-of-sight Transmission of two-way video, audio and data in a mobile environment.
Realize point-to-point or point-to-multipoint two-way data transmission: meet high-quality audio, video, and data, including: office files, audio and video files, shared files; access to the Internet, data interaction, dial exchange calls, remote maintenance and other functions
Suitable for on-board mobile, explosion-proof monitoring, fixed monitoring and other transmissions.

| | |
| --- | --- |
| Indicator | 数 Parameter |
| working frequency | 300MHz ~ 800MHz customized |
| Modulation mode | TDD |
| RF power | 10W |
| Channel bandwidth | 5/8 / 10MHz |
| Delay | 200ms ≤ 200ms |
| Receive sensitivity | -92dBm |
| transfer method | Full duplex |
| Data protocol | TCP / IP |
| Data rate | 8Mbps 2Mbps to 8Mbps |
| Transmission distance | 2 ~ 15Km (non-line of sight), 5 ~ 45Km (line of sight) |
| RF interface | NK |
| Data interface | RJ45 |
| power supply | DC12V |
| Power consumption | 20W |
| Dimensions | 220 × 146 × 55 mm (L × W × H) |
| weight | 2.5kg |