Service Phone
0755-86180065
service hours
Monday to Friday 8: 30-18: 00
Back to top
LA-PTP5-23P / PN 100km long distance wireless bridge
Main Products: wireless monitoring, wireless monitoring equipment, wireless video transmission, wireless monitoring system, wireless video monitoring
LA-PTP5-23P / PN is a newly launched point-to-point wireless bridge product with high capacity and long distance in the unlicensed band: LA-PTP5-23P has a built-in 23dbi dipole antenna and LA-PTP5-PN external antenna. This series of products apply 2 × 2 MIMO breakthrough technology, achieve throughput up to 220 Mbps (110 Mbps full duplex), have excellent PPS packet processing capability, and are compatible with LA-PTP5-23 MIMO.
LA-PTP5-23P / PN is suitable for carrier-grade point-to-point network applications, and is an ideal device for dedicated line access or backhaul applications (including VOIP and other small data packet transmission applications). By combining flexible channel bandwidth (20 or 40MHz) with the industry-leading W-Jet 2 MIMO proprietary protocol, this series of products achieve extremely high spectrum utilization of 7.5 bit / Hz. The product has a built-in dual-polarized antenna or is equipped with two N-type connectors. The rugged, cast aluminum housing reaches IP-67 protection.
LA-PTP5-23P / PN products integrate a series of advanced software mechanisms to provide the best point-to-point connection performance for high-throughput and long-distance link applications. The proprietary point-to-point communication mechanism uses dynamic time division duplex (TDD) technology to dynamically allocate bandwidth for the required transmission direction, thereby improving link efficiency and significantly reducing the impact of transmission distance on link throughput. The LA-PTP5-23P / PN point-to-point products also use selective retransmission ARQ technology to enhance error correction capabilities and optimize data traffic, so that the device can still achieve very high throughput under conditions of large bandwidth, long distances and even interference .
The built-in RF module of the new series has a transmit power of 28 dBm (+/- 2 dBm), and can still reach 23 dBm (+/- 2 dBm) in the highest modulation mode (MCS 15). Robust long distance link. The product is equipped with a Gigabit Ethernet port and supports the 802.3af standard, which is more flexible and convenient to use. At the same time, built-in static protection according to IEC 61000-4-2 (ESD) standard, and surge protection according to IEC 61000-4-5 (Surge) standard.

★ 5GHz point-to-point bridge, ideal equipment for dedicated line access, data backhaul, and dedicated network
★ Flexible adjustment of channel frequency and channel bandwidth (20/40 MHz)
★ Wireless transmission rate up to 300Mbps
★ The actual throughput is up to 220Mbps
★ Advanced W-jet MiMo 2 proprietary wireless protocol
★ Powerful PPS packet processing capability, ideal equipment for VOIP backhaul applications
★ Support ARQ (selective retransmission), affordable ultra-high throughput.
★ Dynamic time division duplex, real-time allocation of bandwidth on demand
★ Integrated dual-polarized antenna or external antenna (LA-PTP5-NP)
★ Powered by PoE, support 802.3af standard
1000Base-T Ethernet interface
★ Wireless transmit power 28dBm
★ Advanced Security Technology
★ Comprehensive management functions
Web graphical interface
Support SSH command management
WNMS centralized management
Support SNMP V1 / 2/3: 802.1, 802.1x, MIBII
Support system log
★ Professional installation components that can adapt to various installation scenarios
★ Equipped with OLED LCD display and calibration buzzer
★ IP-67 protection level
W-jet's proprietary wireless protocol achieves excellent long-distance wireless transmission performance and reliability through the use of unique technologies.
The W-jet protocol is the result of many years of research and development. The application of this technology enables the performance of long-distance point-to-point products to surpass similar products on the market, while also providing customers with the best return on investment.
The product software is very easy to use and is designed for point-to-point applications. The main functions of the operating system are as follows:
Wireless mode
★ Main Bridge
★ From the bridge
Wireless network settings
★ W-Jet 2 Peer to Peer
★ SISO / MIMO wireless mode
★ Optional channel bandwidth: 20/40 MHz
★ Channel selection: automatic / manual
★ Data rate control: automatic / manual
★ Disable SSID broadcast
★ Wireless security: AES 128-bit encryption
★ aggregation frame (length adjustable)
★ Multi-path protection: on / off
遵从法规:开启/关闭 ★ Comply with regulations: on / off
Device Configuration
管理员访问 ★ Administrator access
位置定位:纬度和经度 ★ Positioning: Latitude and Longitude
OLED 控制 ★ OLED control
HTTP/HTTPS/SSH/SFTP 访问 ★ HTTP / HTTPS / SSH / SFTP access
系统告警 ★ System Alarm
NTP 客户端 ★ NTP client
支持SNMP v1/v2/v3 ★ Support SNMP v1 / v2 / v3
本地系统日志 ★ Local system log
性能统计报告,数据以图形化显示 ★ Performance statistics report, the data is displayed graphically
Network mode
二层透传 ★ Two-layer transparent transmission
Network Configuration
独立的管理VLAN ★ Independent management VLAN
VLAN、Double VLAN、ISL、 ★ VLAN, Double VLAN, ISL,
MPLS transparent transmission
静态和动态管理IP ★ Static and dynamic management IP
支持3794 字节帧长 ★ Support 3794 byte frame length
management
WNMS 代理 ★ WNMS Agent
通过TFTP 还原固件 ★ Restore firmware via TFTP
恢复出厂默认设置 ★ Restore factory default settings
配置管理:备份/还原 ★ Configuration Management: Backup / Restore
特有的故障诊断文件 ★ Special troubleshooting files
OLED 屏幕设置 ★ OLED screen settings
tool
天线对准 ★ Antenna alignment
站点勘测 ★ Site Survey
链路测试 ★ Link test
频谱分析 ★ Spectrum Analysis

Wireless specifications

wireless technology

W-Jet dedicated protocol, 2x2 MiMo

Operating mode

peer to peer

Working frequency

5.15 – 5.915 GHz

Channel bandwidth

20, 40 MHz

Maximum transmit power

28 (+/- 2) dBm

Modulation mode

BPSK, QPSK, 16QAM, 64QAM

Receive sensitivity

Varies from -94 to -72dBm according to different modulation modes and channel bandwidth

Error correction

FEC, selective ARQ

Duplex mode

Dynamic time division duplex

antenna

Types of

Built-in directional flat panel antenna (LA-PTP5-23P) or 2 N-type connectors (LA-PTP5-NP)

Polarization mode

Dual polarization (LA-PTP5-23P)

Gain (vertical / horizontal)

23 / 23dBi (LA-PTP5-NP)

3dB lobe width (vertical / horizontal)

8/8 degrees (LA-PTP5-23P)

Data interface

Physical interface

10/100 Base-T

protocol

Ethernet IEEE 802.3

Connector type

RJ45

Surge protection

Built-in IEC 6100-4-2 (ESD) and IEC 6100-4-5 (Surge)

Link performance

Throughput

220 Mbps total (110 Mbps full duplex)

Maximum packet processing speed

60,000 packs / second

Packet delay

2 ms (64-byte packets)

Recommended link distance

LA-PTP5-23P: 35km / LA-PTP5-NP: 100km (external antenna gain ≥32dBi)

Safety

data encryption

Hardware AES (Advanced Encryption Standard)

Physical properties

Size (LA-PTP5-23P)

385 mm (width) x 380 mm (height) x 80 mm (depth)

Size (LA-PTP5-NP)

220 mm (width) x 220 mm (height) x 75 mm (depth)

weight

(LA-PTP5-23P): 3.3 kg (including pendant) (LA-PTP5-NP): 2 kg (including pendant)

power input

9 – 48V DC, PoE

Equipment power

100 – 240V AC Power Adapter

power consumption

8W

surroundings

Operating temperature

-40 ° C ~ + 65 ° C

Working humidity

0 ~ 90% (non-condensing)

management

Installation assistance

OLED screen display and beep

System configuration interface

User friendly WEB graphical interface, SSH CLI, SNMP v1 / 2c / 3, central remote control management system

Management system

WNMS (Wireless Network Management System), WNMS Cloud

Regulations

Certification

FCC / IC / CE / RoHS Compliant

Protection class

IP-67
Antenna pattern: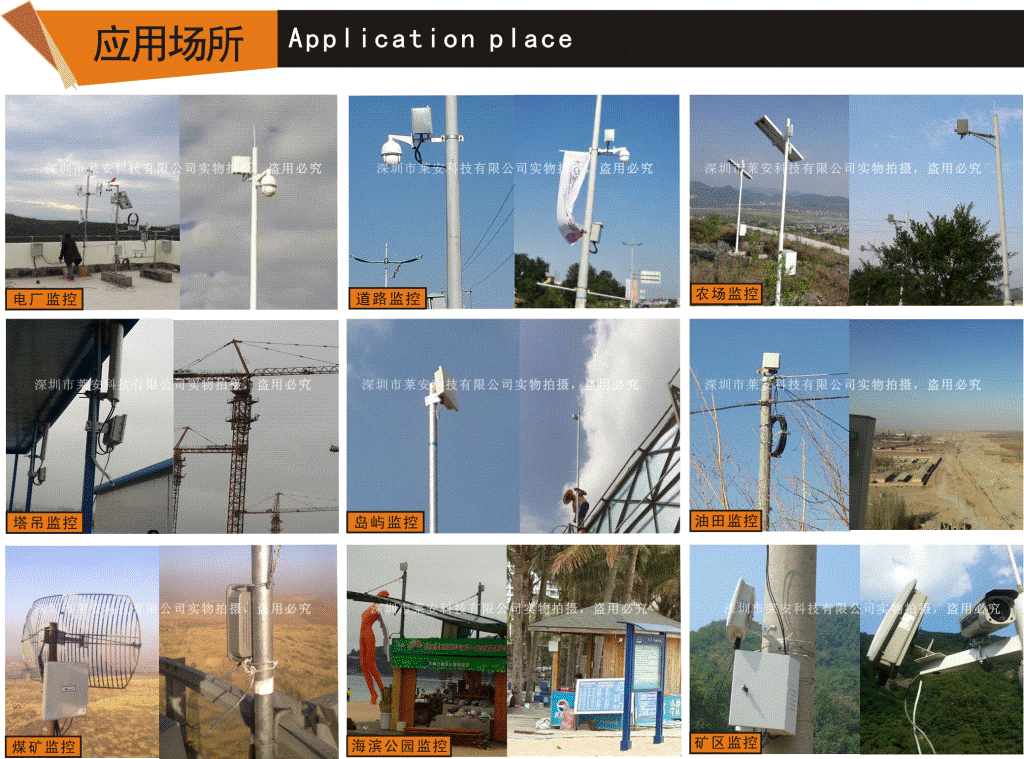 Product search keywords: wireless bridge, 8km wireless bridge, high-definition wireless monitoring system, wireless monitoring equipment, park wireless monitoring, coal mine wireless monitoring system