Service Phone
0755-86180065
service hours
Monday to Friday 8: 30-18: 00
Back to top
LA-5600V6 866Mbps Industrial Wireless Bridge
Main Products: wireless monitoring, wireless monitoring equipment, wireless video transmission, wireless monitoring system, wireless video monitoring
802.11ac 标准的室外基站型无线网桥 , 使用美国 AR9344+AR9882 芯片方案,无线射频功率 1W 。 The LA-5600V6 wireless bridge is an outdoor base station type wireless bridge that complies with the 802.11ac standard . It uses the American AR9344 + AR9882 chip solution, and the radio frequency power is 1W . According to the on-site wireless network distribution, point-to-multipoint wireless client access and point-to-point high-bandwidth wireless data transmission can be achieved through external antennas. LA-5800V6 无线网桥前端可以和 LA-5839A 、 LA-5839S 、 LA-5830F 、 LA-5818 等组网通讯。 In wireless networking applications, the LA-5800V6 wireless bridge front-end can communicate with LA-5839A , LA-5839S , LA-5830F , LA-5818 and other networking . 10 公里条件无遮挡传输可以实现 200M 以上的实际速率。 In the case of point-to-point data transmission, the device uses a bipolar external antenna, and the unobstructed transmission at 10 km can achieve an actual rate of more than 200M . Meet the transmission of high-definition network signals, data, voice, control signals, and multimedia information. After years of industry applications, the equipment is stable and reliable. 无线视频传输 、大型工厂无线监控系统、生态养殖无线视频监控系统、平安城市无线监控等上面。 Simple installation and debugging, suitable for wireless monitoring in mines, wireless video transmission systems for forest fire prevention, wireless monitoring for roads, wireless video monitoring for ports and docks, wireless video transmission for oil fields , wireless monitoring systems for large factories, wireless video monitoring systems for ecological farming, wireless monitoring for safe cities, etc. Above. Equipment used 720P 1080P 等。 The 802.11ac protocol is very suitable for transmitting various types of network video signals under long-distance conditions, including network standard definition 720P 1080P and so on.

● Excellent performance: It complies with the IEEE 802.11ac standard and adopts MIMO and OFDM technologies;
● Flexible networking: support wireless access point / wireless client / bridge / relay;
● High receiving sensitivity, get better data stream at the same distance ● Ultra high transmission rate: meet the long-distance network data transmission based on TCP / IP protocol , Specific frequency points, channels, convenient for project debugging;
● Channel bandwidth: the bandwidth of each channel can be controlled by software 20MHz, 40MHz, 80MHZ effectively utilizes frequency point resources, optimizes wireless links, and is suitable for large-scale data networking transmission;
● Multiple security measures: support WEP, WPA, WAP2 and 802.1afPOE input, support AES / TKIP of international standards;
● Bandwidth management: The bandwidth is automatically adapted, with perfect QoS service quality guarantee;
● Antenna signal calibration: WEB interface automatically displays the receiving level value, which is convenient for project construction and testing;
● Bandwidth test: Provides bandwidth test for sending and receiving, no third-party test software is required, which facilitates engineering installation and commissioning;
● IP tool software: When you forget the wireless device IP address, you can use (Uconfig) tool software to search for the device's IP address;
● WEB management, support Telnet at the same time, monitoring and management is more convenient; support configuration file import / export and software upgrade;
● Network management: remote management based on WEB or centralized management via SNMP;
● Windproof, rainproof, sunproof, dustproof, shockproof and heat dissipation design.

RF hardware

Frequency Range

5.15 ~ 5.35 GHz




5.47 ~ 5.725 GHz




5.725 ~ 5.825 GHz

RAM

128MB

Flash memory

16MB

Transmit power

30dBm (± 2dBm)

Power consumption

1W (10W)

RF technology

OFDM

Modulation

IEEE

802.11a

/ n: OFDM with BPSK, QPSK, 16QAM, 64QAM

interface

10/100 / 1000Base-Tx RJ45 (Gigabit port)

Operating mode

Wireless access point / wireless client / bridge / relay

Transmission rate

MCS 0 – MCS 7 (15/30/45/60/90/120/135 / 150Mbps)




MCS 8 – MSD 15 (30/60/90/120/180/240/270 / 300Mbps)

Sensitivity

IEEE 802.11a: -96dBm @ 6Mbps; -83dBm @ 54Mbps




IEEE 802.11n: -95dBm @ HT20; -91dBm @ HT40

Radio frequency band

MHz Supports HT20, HT40,

HT80

MHz

Sensitivity

-75dBm @ 300Mbps, -79dBm @ 270Mbps, -81dBm @ 240Mbps, -85dBm @ 180Mbps, -89dBm @ 120Mbps, -90dBm @ 90Mbps, -93dBm @ 60Mbps, -95dBm @ 30Mbps

Encryption type

64-bit / 128-bit / 152-bit WEP and WPA (-PSK with TKIP / AES)

Management style

Web management, support SNMP V2C, Telnet / Shell (SSH)

Upgrade backup

Support remote online firmware upgrade

antenna

Optional

Antenna type

External

Front-to-back ratio

≥25

Standing wave ratio

≤1.5

Power supply

DC 18 ~ 24V POE power supply

Network Interface

One 1000BASE-TX adaptive fast Ethernet interface, auto flip (Auto MDI / MDIX)

Shell size

220 × 220 × 80 mm

weight

1.8Kg

Installation and fixing

U-shaped clamp pole, pole diameter: Ф30-50mm

Operating temperature

Operating temperature: -40 ° C to 80 ° C




Storage temperature: -60 ° C to 90 ° C

Working humidity

Operating humidity: 5% to 95% non-condensing




Storage humidity: up to 90% non-condensing
testing report:
Test report one
Test report two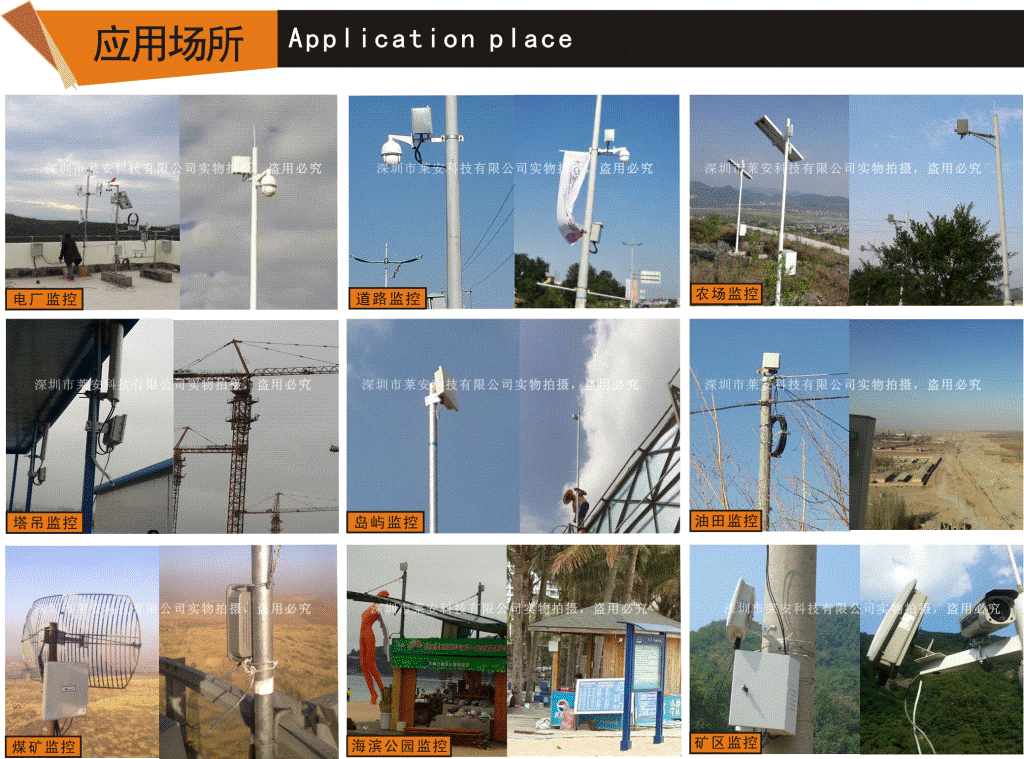 Product search keywords: High-band wireless bridge, 5.8G wireless monitoring, wireless monitoring equipment, wireless video monitoring equipment, wireless image transmission equipment, wireless video transmission equipment