Service Phone
0755-86180065
service hours
Monday to Friday 8: 30-18: 00
Back to top
LA-6900C COFDM wireless digital relay device
Main Products: wireless monitoring, wireless monitoring equipment, wireless video transmission, wireless monitoring system, wireless video monitoring
LA-6900C COFDM数字接收机以及数字发射机 Front camera MINI COFDM digital transmitter LA-6900C COFDM digital receiver and digital transmitter
Back-end MINI portable receiver (can be customized with display function) 1U rack receiver
LA-6900C configuration (prices vary):
Front-end COFDM mini transmitter + relay + 1U receiver
Front-end COFDM mini transmitter + relay + MINI portable receiver
Front-end COFDM mini transmitter + relay + MINI portable receiver (with display function)
This device adopts advanced mobile communication core technology Multi-Carrier Modulation Technology (COFDM). It is a highly integrated mobile non-line-of-sight digital image transmission device. The audio and video after the front-end video collection are wirelessly transmitted to the LA-6900C and passed through the relay device. After re-transmission, the transmission distance can reach 10-15 kilometers in open places, and it can transmit real-time stable audio and video during high-speed movement and under the conditions of urban buildings. The device can be placed in a hidden part of the human body for hidden signal transmission. Mainly used in ⎝⎛叫我棋牌⎞⎠ investigations, public security forensics, etc.

Features:
模块化组合式设计,电路高度集成,体积小 ■ Modular combination design, highly integrated circuit, small size
采用COFDM调制技术,MPEG-2图像压缩技术 ■ Using COFDM modulation technology, MPEG-2 image compression technology
全方位通信,不怕楼墙遮挡 ■ All-round communication, not afraid of blockage by the wall
高容量锂电池供电(电池可更换) ■ High-capacity lithium battery (replaceable battery)
发射加密功能(RS232) ■ Transmission encryption function (RS232)
高速移动传输视频/音频,稳定 ■ High-speed mobile video / audio transmission, stable
D1效果 ■ D1 effect
散热片式铝材机壳,防潮、防雨、防震、抗冲击 ■ Heat sink aluminum case, moisture-proof, rain-proof, shock-proof, impact-resistant
高保真数码立体声传输 ■ High-fidelity digital stereo transmission
Equipment advantages:
LA-6900C uses the world's most advanced COFDM multi-carrier wireless digital video transmission technology. It has strong anti-interference ability and good diffraction ability. Both the front end and the relay adopt COFDM transmission and reception. Compared with traditional analog to COFDM transmission, it has the advantages of longer transmission distance, less attenuation, small delay, and high stability. It is very suitable for use in special fields such as ⎝⎛叫我棋牌⎞⎠ investigation, public security investigation, court forensics, and security.
Remarks:
The receiver is a standard 1U chassis rack receiver or a MINI suitcase receiver. If the customer needs to watch the video directly on the MINI suitcase, special customization is required. Please specify in detail before ordering.

Front-end MI COFDM transmitter parameters

Working frequency

300MHz ~ 5.8G, frequency adjustable

Output Power

0.1 ~ 1.2W (continuously adjustable)

Modulation

COFDM 2K QPSK / TDS-OFDM

Channel bandwidth

1.25 / 2/4/6 / 8MHz (optional)

Code stream

0.8Mbps ~ 10Mbps

technical standard

Comply with MPEG-2, MPEG-4, H.264 technical standards

Video input

PAL / NTSC

End-to-end delay

40ms

Bit error rate

≤10-6

Audio and video data format

MPEG-4@ ML 4:2:0 MPEG-2 , MPEG-4 @ ML 4: 2: 0

Audio input

Left and right channels

Transmission distance

1.5 公里 0.3 ~ 1.5 km

Voice and data

可提供数据接口(可选)、提供一路视频、二路音频 Two-way voice (optional), data interface (optional), one video and two audio channels

Image definition

25 帧 /s 时 , 分辨率不低于 720×576 , When the transmission rate is 25 frames / s, the resolution is not less than 720 × 576 ,

Transmitting antenna

Omnidirectional handheld antenna

Encryption

128bit ) AES / ABS ( 128bit )

FEC

1/2 、 2/3 、 3/4 ) Viterbi ( 1/2 , 2/3 , 3/4 )

Guard interval

1/16 , 1/8 , 1/4 1/32 , 1/16 , 1/8 , 1/4

Power interface

Two-core aviation buckle

battery

3 小时 Can work continuously for 3 hours

Indicator light

; 电源指示、功率指示、视频指示 Front panel provides three indicators ; power indicator, power indicator, video indicator

weight

) 0.5kg ( including battery )

size

145mm × 105mm × 35mm (L × W × H)

working environment

-30 ~ 70 ℃ 相对湿度: 90 % Temperature: -30 ~ 70 ℃ Relative humidity: 90 %

Save the environment

: -40 ~ 80 ℃ 相对湿度: 90 % Temperature : -40 ~ 80 ℃ Relative humidity: 90 %
Some parameters of wireless transfer receiving

Receiving frequency range

170-860MHz VHF & UHF

Frequency bandwidth

2/4 / 8MHz, optional

RF input level

2M 带宽时) -94dBm ~ -15dBm ( when 8M bandwidth) /-98dBm ~ -15dBm ( when 2M bandwidth)

RF input impedance

50 ohm

RF input connector

N head

Demodulation method

COFDM

Constellation

16QAM 、 64QAM(可选) QPSK , 16QAM , 64QAM (optional)

Forward error correction

1 / 2,2 / 3,3 / 4,5 / 6,7 / 8 (optional)

Number of carriers

2k

Guard interval

1 / 32,1 / 16,1 / 8,1 / 4 (optional)

Video decoding

MPEG-2MP @ ML

Screen aspect ratio

4: 3 16: 9

Video image

720 * 576 @ 8MHz

Audio output mode

300/200mv Stereo unbalanced 300 / 200mv

Audio output

+2Video 输出 2Audio output + 2Video output

Operating Voltage

2A AC220V / DC12V < 2A

Operating temperature

+50 ℃ -2 0 ℃ ~ +50 ℃

antenna

Car sucker antenna
Some parameters of wireless relay transmission

Working frequency

5.8G,频率可调 300MHz ~ 5.8G, frequency adjustable

Output Power

5W

Modulation

COFDM / 2K / QPSK / TDS-OFDM

Channel bandwidth

) 1.25 / 2/4/6 / 8MHz ( optional )

Code stream

10Mbps 0.8Mbp s to 10Mbps

technical standard

MPEG-2 、 MPEG-4 、 H.264技术标准 Comply with MPEG-2 , MPEG-4 , H.264 technical standards

Video input

PAL / NTSC

End-to-end delay

40ms

Bit error rate

≤10-6

Audio and video data format

MPEG-4@ ML 4:2:0 MPEG-2 , MPEG-4 @ ML 4: 2: 0

Audio input

Left and right channels

Transmission distance

1.5 公里 5 to 1.5 kilometers

Audio and data

Two-way voice (optional), data interface (optional), one video and two audio channels

Image definition

25 帧 /s 时 , 分辨率不低于 720×576 , When the transmission rate is 25 frames / s, the resolution is not less than 720 × 576 ,

Transmitting antenna

Car sucker antenna

Encryption

128bit ) AES / AB S ( 128bit )

FEC

1/2 、 2/3 、 3/4 ) Viterb i ( 1/2 , 2/3 , 3/4 )

Guard interval

1/16 , 1/8 , 1/4 1/32 , 1/16 , 1/8 , 1/4

Power interface

Standard interface

battery

3 小时 Can work continuously for 3 hours

Indicator light

; 电源指示、信号强度 Two indicators on the front panel ; power indicator, signal strength

weight

) 4KG ( including battery )

size

220 * 70 * 90MM (L × W × H)

working environment

-30 ~ 70 ℃ , 相对湿度: 90 % Temperature: -30 to 70 ℃ , relative humidity: 90 %

Save the environment

-40 ~ 80 ℃ , 相对湿度: 90 % Temperature: -40 to 80 ℃ , relative humidity: 90 %
Terminal receiver parameters

Receiving frequency range

170-860MHz VHF & UHF

Frequency bandwidth

2/4 / 8MH z , optional

R F input level

)/-98dBm~-15dBm ( 2M 带宽时) -94dBm ~ -15dBm ( when 8 M bandwidth ) /-98dBm ~ -15dBm ( when 2M bandwidth)

RF input impedance

50 ohm

RF input connector

N head

Demodulation method

COFDM

Constellation

16QAM 、 64QAM(可选) QPSK , 16QAM , 64QAM (optional)

Forward error correction

1 / 2,2 / 3,3 / 4,5 / 6,7 / 8 (optional)

Number of carriers

2k

Guard interval

1 / 32,1 / 16,1 / 8,1 / 4 (optional)

Video decoding

MPEG-2MP @ ML

Screen aspect ratio

4: 3 16: 9

Video image

720 * 576 @ 8MHz

Audio output mode

Stereo unbalanced 300 / 200mv

Audio output

+2Video 输出 2Audio output + 2Video output

Operating Voltage

2A AC220V / DC12V < 2A

Operating temperature

+50 ℃ -20 ℃ ~ +50 ℃

physical dimension

1U )机箱或 MINI 手提接收箱 480 * 260 * 45 ( 1U ) case or MINI portable receiving box

equipment weight

2.5kg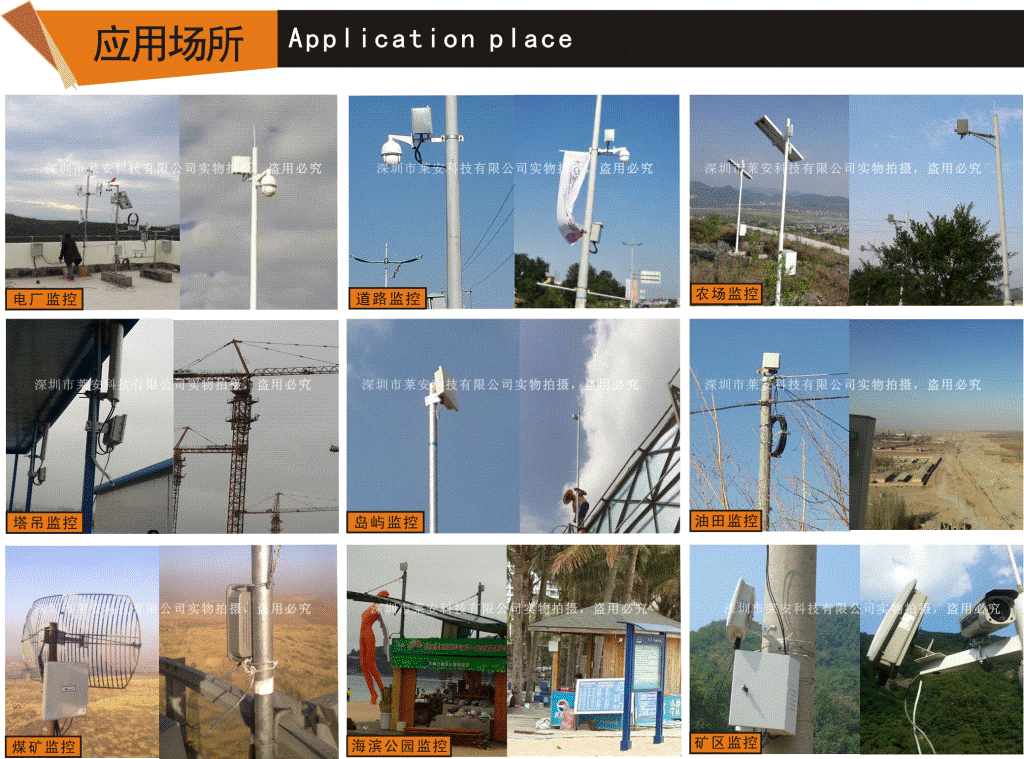 Product search keywords: wireless bridge, mobile video transmission equipment, HD wireless monitoring system, wireless monitoring equipment, mobile wireless monitoring system, wireless mobile monitoring equipment