Service Phone
0755-86180065
service hours
Monday to Friday 8: 30-18: 00
Back to top
LA-6801TD non-line-of-sight wireless data two-way transmission system (5W)
Main Products: wireless monitoring, wireless monitoring equipment, wireless video transmission, wireless monitoring system, wireless video monitoring
LA-6801TD small wireless data two-way transmission system, using TDD (Time Division Duplexing) time division duplex technology, channel resources are flexibly allocated to multiple users through time slots and frequency through subcarriers, maximum at a single frequency Limit the realization of multi-user access. The system has the characteristics of occupying a relatively narrow frequency bandwidth (5/8 / 10MHz) and strong resistance to multipath interference. It can overcome the problems caused by multipath reflection and occlusion under analog and conventional modulation technologies, and achieve Video, audio and data transmission in line-of-sight mobile environment.
Realize point-to-point or point-to-multipoint two-way data transmission to meet high-quality audio, video and data, including: office files, audio and video files, shared files; access to the Internet, download data, dial exchange calls, remote maintenance and other functions.
Can be used for unmanned vehicles, unmanned aerial vehicles, field observation stations, suburban factories, depots, construction sites, etc., and the headquarters of the network connection.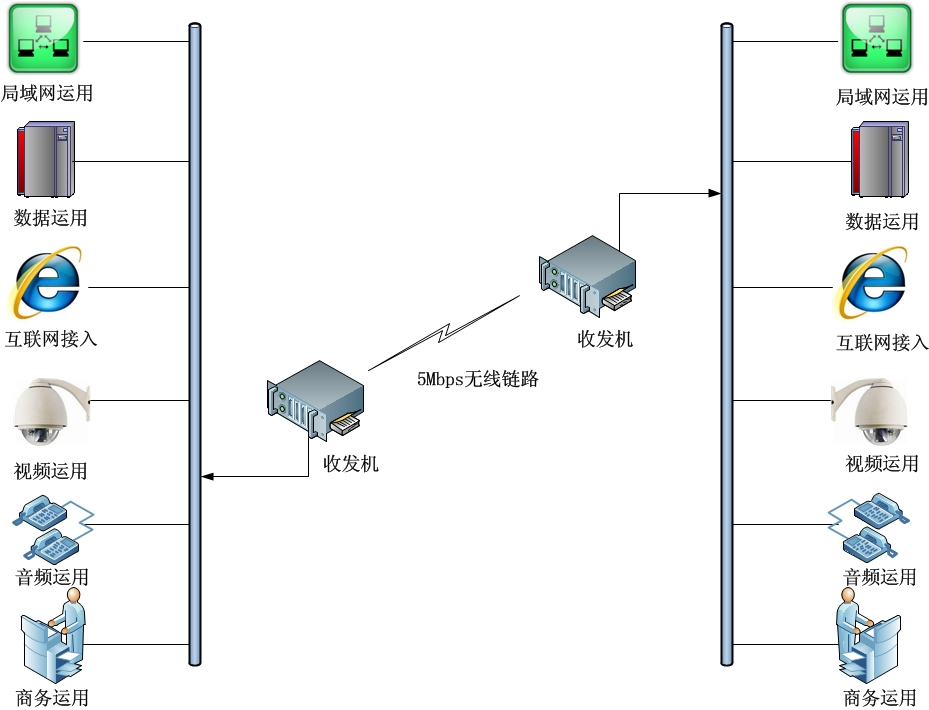 | | |
| --- | --- |
| Indicator | 数 Parameter |
| working frequency | 300MHz ~ 800MHz customized |
| Modulation mode | TDD |
| RF power | 5W |
| Channel bandwidth | 5/8 / 10MHz |
| Delay | 200ms ≤ 200ms |
| Receive sensitivity | -92dBm |
| transfer method | Full duplex |
| Data protocol | TCP / IP |
| Data rate | 8Mbps 2Mbps to 8Mbps |
| Transmission distance | 10Km ( 非视距 ) , 5 ~ 30Km ( 视距 ) 2 ~ 10Km ( non-line-of-sight ) , 5 ~ 30Km ( line-of-sight ) |
| RF interface | NK |
| Data interface | RJ45 |
| power supply | DC12V |
| Power consumption | 5.5W |
| Dimensions | 116 × 45 mm (L × W × H) 182 × 116 × 45 mm (L × W × H) |
| weight | 1.3kg |