Service Phone
0755-86180065
service hours
Monday to Friday 8: 30-18: 00
Back to top
LA-680CS Series Mini COFDM Wireless Video Transmission Equipment
Main Products: wireless monitoring, wireless monitoring equipment, wireless video transmission, wireless monitoring system, wireless video monitoring
Appearance: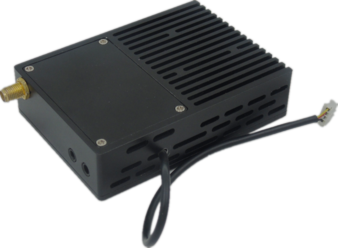 Transmitter receiver
product description:
LA-680CS series mini COFDM (multi-carrier modulation technology) equipment is a set of transmitting antenna, digital modulation, digital compression of audio and video in one, small size, light weight, long transmission distance. The device signal source supports analog standard definition, high definition (SDI / HDMI) and other formats. The modular combination design is suitable for mounting drones to transmit video images in real time. It can also be used in close-fitting suits and small cameras to achieve concealed on-site high-resolution image collection and transmission. It is a highly integrated mobile non-line-of-sight digital mobile video wireless image transmission device, which can transmit real-time stable audio and video during high-speed movement and under the conditions of urban buildings.
The transmission system can reach a distance of more than 500m and a range of 10 kilometers under normal blocking conditions. A high-gain directional antenna or an omnidirectional antenna is used to achieve a transmission distance of up to 20Km. If longer distance transmission is needed, you can use the existing wired network, China Mobile (Satellite), and our company's portable relay transmission equipment or vehicle-mounted wireless video transmission system for relay transmission. More than 20 kilometers.
Mini devices support two different powers (0.5W and 1W @ average power). The higher the power, the stronger the signal penetration and the longer the transmission distance.
Transmission distance: through the environment ≥ 2km. Blocking environment: ≥500m (depending on the environment)
Transmitter size
Receiver size
Features:
· Highly integrated, modular combination design
· Using COFDM modulation technology, H.264 image compression technology
All-round communication, not afraid of blockage by the wall
Communication at high speeds,
· Heat sink aluminum case, shockproof and impact resistant
· Non-line-of-sight (NLOS) mobile transmission, with a distance of not less than 10 kilometers under line-of-sight conditions
. The maximum moving speed can reach 600Km / hour (measured)
Applications:
This product is mainly used in technical reconnaissance and evidence collection by public security and security inspection departments. Broadcasting, live broadcasting: broadcasting, sports broadcasting, social ⎝⎛叫我棋牌⎞⎠, air live, studio, mountaineering and other aspects. Suitable for real-time mobile transmission of high-quality images in a variety of complex environments such as urban areas, seas, and mountains.
Product parameters:
| | |
| --- | --- |
| Modulation | COFDM |
| Operating Voltage | DC11V ~ DC13V |
| Working current | 0.5W: ≤0.6A DC12V, 1W: ≤0.8A DC12V, |
| Control interface | Standard RS232 interface, 8 data bits, 1 stop bit, even parity, baud rate: 19200 |
| Transparent data interface | One-way transparent serial transmission, 8 data bits, 1 stop bit, support odd parity, even parity, wireless parity, baud rate: 1200, 2400, 4800, 9600, 19200, 38400, 57600, 115200 230400 |
| Encryption | Supports 128-bit encryption |
| Modulation mapping | QPSK (4QAM), 16QAM, 64QAM |
| Forward error correction | 1/2 2/3 3/4 5/6 7/8 |
| Guard interval | 1/32 1/16 1/8 1/4 |
| Carrier number | 2K |
| Frequency bandwidth | 2/3/4/5/6/7 / 8M adjustable |
| Transmission stream | 2000kbs ~ 20000kbs adjustable |
| Transmit power | 0.5W / 1W |
| Transmission frequency | Can be customized at any frequency, the frequency is continuously adjustable, and the step is 1MHz |
| Power flatness | Less than 0.2dB in 10MHz band |
| With shoulder ratio | When the output power is 27dB, the shoulder ratio is better than -30dB |
| Second harmonic | ≤-45dB |
| MER | 32Db |
| Input video | 720x480 60I (NTSC), 720x576 50I (PAL), 720 50P, 720 60P, 1080 50I, 1080 60I, 1080 24P, 1080 25P, 1080 30P, 1080 50P, 1080 60P, various modes are adaptive. |
| HD interface | HDMI |
| Video encoding format | H.264 |
| Protection standard | All-aluminum radiator-type chassis, anti-rust, shock-proof design |
| Overall size | 90 * 64 * 23mm |
| Total Weight | ≤0.2KG (including whip antenna) |
COFDM receiver
The LA-680CS series full-featured receiver is a new type of mobile wireless image receiving system. It can receive wireless high-definition image and sound signals from the entire series, forming a non-line-of-sight image sound transmission system. This device has high receiving sensitivity and is suitable for high-speed mobile applications and transmission under non-line-of-sight (NLOS) conditions.
The COFDM orthogonal modulation and demodulation technology based on the fourth-generation mobile communication core technology makes the system have good transmission characteristics. At the same time, because the MPEG-2 image compression and codec technology based on the DVD standard is used, the received image is very clear, real-time and stable. It can realize the function of real-time recording and playback, and can export the recorded content to backup. In order to adapt to the electromagnetic environment of various applications, avoid external interference.
Features:
· Simultaneous reception of audio and video signals, SD image output DVD image quality, high-definition HDMI1080P multi-format
Can realize recording, playback, backup and other functions
· Highly integrated, modular combination design
All-round communication, not afraid of blockage by the wall
Communication during high-speed travel, real-time and stable audio / video transmission
128-bit AES decryption
· High-fidelity digital stereo transmission
Applications:
This device is mainly used with COFDM transmitters in different locations such as urban environments, suburban environments, and mountainous regions, or in the case of further transmission requirements. Can be applied to public security, fire protection, traffic police, civil air defense emergency, urban management law enforcement, environmental protection monitoring, fire emergency, water conservancy flood prevention, power rescue, railway rescue, maritime law enforcement, sea surveillance inspection, customs border control, terminal monitoring, forest fire prevention, oil field anti-theft, military Reconnaissance, TV broadcasting, etc. Suitable for real-time mobile transmission of high-quality images in a variety of complex environments such as urban areas, seas, and mountains.
Receiver parameters:
HD receiver parameters

Receiving frequency range

170-860MHz VHF & UHF

Frequency bandwidth

2/3/4/5/6/7 / 8MHz, adjustable

RF input level

-94dBm ~ 0dBm (at 8M bandwidth) /-98dBm ~ 0dBm (at 2M bandwidth)

RF input impedance

50 ohm

RF input connector

SMA female

Demodulation method

COFDM

Constellation

QPSK, 16QAM, 64QAM (optional)

Forward error correction

1 / 2,2 / 3,3 / 4,5 / 6,7 / 8 (optional)

Number of carriers

2k,

Guard interval

1 / 32,1 / 16,1 / 8,1 / 4 (optional)

Video decoding

MPEG-2MP @ ML

Screen aspect ratio

4: 3 16: 9

HD output interface

Compliant with video, HDMI

Video and audio output interface

3.5 standard interface

Operating Voltage

DC12V < 0.3A

Operating temperature

-20 ℃ ~ + 50 ℃

physical dimension

87 * 70 * 20mm

equipment weight

0.2kg (including whip antenna)
Series description
LA-680CS series

Type

signal source

LA-680CS-B

Analog and SD signal sources

LA-680CS-H

HDMI